This year's Banksia Sustainability Awards were announced at a ceremony in Sydney on 30 November, with John West Australia taking out the 'Best of the Best' of the Banksia Award Categories.
With a strong drive to deliver a superior product to the market and communicate the importance of sustainable fishing among buyers, John West Australia has inspired businesses and individuals alike.
The Banksia judges commended John West Australia on having "the courage to talk to, encourage and engage with their consumers". They all agreed on the importance of effectively communicating the business' sustainability objectives to the public, ensuring that consumers' buying behaviour is shaped around sustainability.
This year, ocean conservation and sustainable food production was a theme at the Banksia Awards, with many entries detailing their efforts in these areas, including the winner of The Banksia International Award, sponsored by the Qantas Future Planet program, Professor Ove Hoegh-Guldberg. Professor Hoegh-Guldberg's desire to communicate science more effectively, partake in research and to find high impact solutions is what is needed on a global scale to ensure our future sustainability.
A full list of finalists and winners (bold) can be found below.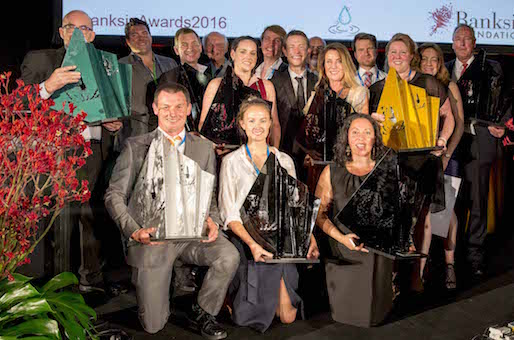 Congratulations to them all!
The Banksia Gold Award
John West Australia
The Environment Minister's Awards for a Cleaner Environment Award: Science and Research
Sponsored by the Australian Department of Environment and Energy
Advanced Water Management Centre, QLD
FeralScan by Invasive Animals CRC, ACT
Professor Ove Hoegh-Guldberg and The Global Change Institute, University of Queensland, QLD
The Environment Minister's Awards for a Cleaner Environment Award: Community Environmental Leadership
Sponsored by the Australian Department of Environment and Energy
Joshua Gilbert, NSW
Kelly Howlett, WA
Dr Tony Parkes, NSW
ocean-agency
Banksia Communication for Change Award
ClimateWorks Australia in partnership with Australian National University, VIC
John West Australia, VIC
Reduce Your Juice by City Smart, QLD
The Get Grubby Project by mememe Productions, NSW
The Ocean Agency, NSW
Banksia Food for Sustainable Thought Award
Sponsored by Closed Loop
Eat Me Chutneys, NSW
John West Australia, VIC
Natural Evolution, QLD
Banksia Indigenous Leadership for Sustainability Award
Aboriginal Landcare Education Program by Greening Australia, NT
AshOil, WA*
Dynamic Exchange in partnership with Napranum Community, QLD
Tiwi Carbon Study by Tiwi Land Council in partnership with CSIRO, NT
Banksia Large Business Sustainability Leadership Award
Sponsored by NSW Office of Environment and Heritage
Inghams Enterprises, NSW
Kathmandu, VIC
Orora, VIC
Teachers Mutual Bank, NSW
Toyota Motor Corporation Australia, SA
Unilever Australia and New Zealand, NSW
eat-me
Banksia Leadership in the Circular Economy Award
Sponsored by Cleanaway
Barangaroo South by Lendlease, NSW
Eat Me Chutneys, NSW
Living Legacy Forest, VIC
NuGrow, QLD
TIC Group, VIC
Banksia Mindful Movement Award
Sponsored by RACV
Lennox Bridge Portals Parramatta by Abergeldie Complex Infrastructure, NSW
NRMA, NSW
PACCAR Australia, VIC
Sendle, NSW
Banksia Natural Capital Award
Sponsored by NAB
Big Scrub Landcare, NSW
BushBlitz by Earthwatch Australia in partnership with Australian Government and BHP Billiton, VIC
Greening Australia, TAS
Mungalla Aboriginal Corporation, QLD
Queensland Urban Utilities, QLD
The Yarra Yarra Biodiversity Corridor by Carbon Neutral, WA
Ashoil
Banksia Small Business Sustainability Leadership Award
Sponsored by Australia Post
AshOil, WA
The Observatory, NSW
The Farmer's Place, VIC
The Sustainable Salon, NSW
Banksia SMART Award
Sponsored by Mirvac
eWater Systems, VIC
GreenBe Systems, NSW
Infratech Industries, NSW
Junglefy in partnership with UTS, NSW
Lightwork by Demand Manager in partnership with Western Sydney University, NSW
Sustain Me Group, VIC
White Gum Valley by Landcorp WA, WA
Banksia Sustainable Cities Award
Sponsored by City of Melbourne
Biodiversity Sensitive Urban Design by RMIT University, VIC
BoxHill Institute Group: Passive House, VIC
City of Fremantle, WA
Melbourne International RoRo Automotive Terminal by CPB Contractors in partnership with Arcadis, Worley Parsons and PLUS Architecture, VIC
Wyndham City Council, VIC
202020 Vision, NSW
Banksia Sustainable and Resilient Communities Award
Sponsored by IAG
Better Business Partnership, NSW
Care for Hedland Environmental Assoc., WA
#Get Sunflowered by ReActivate LaTrobe Valley in partnership with OUTR Research Lab and RMIT University, VIC
Positive Charge by Moreland Energy Foundation, VIC
The Barangaroo Skills Exchange by Lendlease in partnership with TAFE NSW, NSW
The Manymak Project by Power and Water Corporation in partnership with Centre for Appropriate Technology, East Arnhem Regional Council, Charles Darwin University and NT Department of Housing, NT