18 July, 2016
A worldwide movement could come to Australia this year that presents a unique opportunity for research institutions and a more sustainable and ethical way to manage animals used for scientific purposes, according to a white paper released today.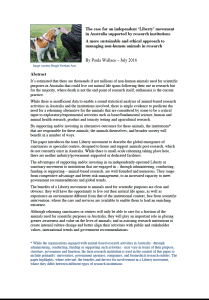 The Liberty movement is a term coined by the white paper's author, Paula Wallace, to describe the growing number of sanctuaries that are springing up around the world to provide rehoming options for non-human animals after they have been used in scientific and medical experiments.
"The next place for the Liberty movement could well be Australia," says Ms Wallace, "Overseas these sanctuaries are funded by governments and a variety of benefactors, but there is considerable benefit in research institutions also taking the lead in providing more ethical options for animals post-research".
This could include financial support and access to animals for rehoming at the conclusion of research that could go on to achieve a good quality of life, according to the white paper.
Animals in research
Of the estimated 6.99 million non-human animals used for scientific purposes in Australia (2014) annually, there are thousands if not millions that could safely live out natural life spans following their use in research. But those that do not die as the endpoint of the research itself are generally used for further research or euthanised.
Ms Wallace is seeking the support of research institutions – primarily those operated by government, universities, pharmaceutical and biomedical organisations – to establish specialist centres in Australia to provide rehoming for ex-research animals such as dogs, cats, birds, rodents and livestock.
Most will have been used for exploratory and experimental activities in basic/fundamental science, human and animal health research, product and toxicity testing, biomedical and agricultural research.
Multiple benefits
With a background in journalism, specialising in business environmental issues and sustainability reporting, Ms Wallace believes there are benefits all-round of an independent Liberty movement in Australia supported by research institutions.
The benefits to animals are clear, says Ms Wallace: "They will have the opportunity to live out their natural life spans safely, as well as experience an environment different from that of the institutional context, free from scientific intervention, where the care and services are available to enable them to lead an enriching existence."
"The benefits to research institutions range from competitive advantage and better public and stakeholder engagement, to an increased capacity to align with global trends and Australian government requirements," she says.
Sustainable approach
The white paper outlines how Australian industry, government and centres of research, will be required to take a more sustainable approach to animal-based research if they are to keep pace with global leaders in biotechnology and life sciences that are embracing greater openness.
"Given that Australian government guidelines require the rehoming of animals wherever possible, and there are large numbers of animals currently being euthanised at the conclusion of research work, a Liberty movement clearly offers a more sustainable approach," says Ms Wallace.
Australia's national Code – the Australian code of practice for the care and use of animals for scientific purposes – recommends adoption of the 3Rs – to reduce, refine and replace the use of animals in research – and also rehoming where appropriate although it is not enforced.
"With the emergence of this movement in the US and Europe already underway, with the support of government in some cases, it is in Australia's interest to consider adding to its commitment to the 3Rs, a fourth 'R' for rehabilitation and rehoming," says Ms Wallace. "Such a commitment will enable more mature public and stakeholder engagement, which is essential for research institutions to embrace at a time when animal welfare issues rate highly on the national and corporate agenda."
Compassionate communities
Although rehoming sanctuaries or centres will only be able to care for a fraction of the animals used for scientific purposes in Australia, Ms Wallace believes they will play an important role in placing greater awareness and value on the lives of these animals.
"There are many people, including those working in research institutions, who feel powerless to enrich the lives of animals that are involved in research but the Liberty movement provides a way for people to contribute in a meaningful way to something positive," says Ms Wallace. The many benefits of compassion and empathy will also be experienced where Liberty Centres become an established part of communities, she adds.
"People can get involved by reading the white paper and learning more about animal-based research in Australia," says Ms Wallace. "We urge you to get in touch if you are interested in supporting the movement in any way".
Next steps
The next stage of the campaign is to engage with Animal Ethics Committees around Australia develop a plan for establishing Liberty Centres in NSW and Victoria.
"We believe that governments, universities and industry will see the many benefits of supporting this movement and bringing it to Australia, and in the process give many animals a second chance at a life that they can only dream about right now," says Ms Wallace.
To download the white paper Click Here
Contact Paula Wallace at: animals[at]paulawallace.com.au  
---